School News & Announcements
Subscribe to posts
The March Newsletter has been posted and can be found under the News & Links tab.
Pancakes will be served tomorrow morning to students who have returned their permission forms that went home last week.
For those students who do not have returned forms or cannot partake due to allergens will receive a 
non-edible treat.
Many thanks to our Parent Council for supporting this initiative as we prepare our minds and bodies for the Lenten Season.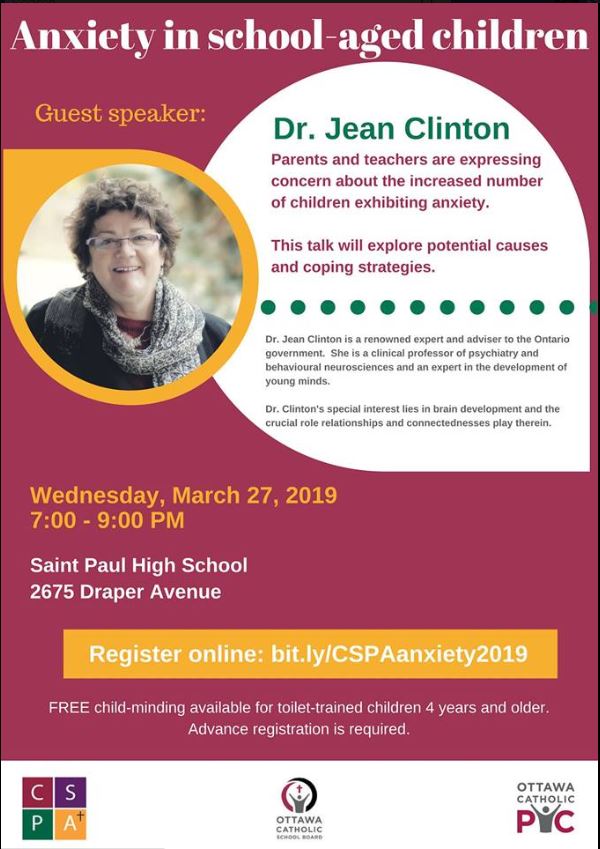 Ottawa Catholic School Parent Association (CSPA) presents:
Anxiety in school-aged children with Dr. Jean Clinton.
March 27, 2019, 7 pm at St. Paul High School
@
OttawaCSPA
Both parents and teachers are expressing increased concern about the number of children exhibiting anxiety. 
This talk will explore what some of the causes may be and some strategies for helping.
Due to a planned protest in downtown Ottawa, Tuesday February 19 and Wednesday February 20, OSTA anticipates bus and van delays throughout the system on those days. OC Transpo may also be delayed. If you are late and cannot meet your KG child at the stop, please advise the school.
Please refer to the following City of Ottawa link for more information about the protest and impacts to traffic. https://ottawa.ca/en/news/two-day-protest-expected-cause-commuter-delays-tuesday-and-wednesday
Report cards were sent home today.  The links for scheduling
online
Student Led Conferences are attached.  The links were also sent to you by email. If you do not have online access and require assistance in booking a time please contact the office at 613-828-5594.
Please see the Parish 
POSTER
 for more details.
Please remember All transportation services are cancelled for today Wednesday, February 13, 2019. All OCSB schools are closed.
Please see the message shared by OSTA;
Forecast snow of 3cm this afternoon, heavy at times. Transportation is running today, and we anticipate delays getting home.
If you are late meeting your KG child at the stop, please call the operator, the school or 
OSTA
613-224-8800